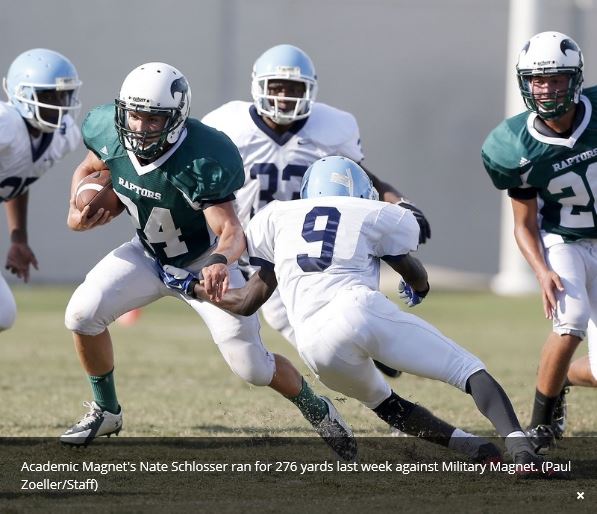 Are Academic Magnet High School athletics an oxymoron?  Not according to Nate. Maybe it used to be. My middle son, Taylor, attended the Academic Magnet back in the early 2000s when the football team made the "In the News" section of Sports Illustrated after losing 100-0 to the Hanahan High Hawks despite letting the clock run continuously in the second half. But that was a long time ago and Magnet Athletics has found its groove. There is something prideful and magical about being a perpetual underdog and yet, still succeeding.
Nate Schlosser is probably as emblematic of AMHS Athletics as anyone could be. Nate wanted to play football at Wando, unfortunately, he was too small, too slow and lacked the necessary athleticism. At least, that is what he was told. Instead, he choose to attend AMHS where he would have the opportunity to excel in the classroom as well as on the playing field.
This past season, senior Nate Schlosser was one of the leading rushers in the region scoring more touchdowns (28) than anyone else in the Low Country. In full pads and with sand in his pockets Schlosser might weigh 160 lbs. Like most of his teammates, Nate's success is a by-product of effort, competitive desire, determination and, mostly heart. Player elements that are harder to measure than size, speed or agility.
There isn't space in the local paper to cover all the wonderful stories that play out on high school athletic fields week in and week out. My wife and I decided to drive up to Danny Jones Field in North Charleston about a month ago to watch the Academic Magnet Raptor football team play the Garrett High School Falcons. It was a big game. With a win, the AMHS Raptors would have their 8th win of the season and clinch a playoff berth; two things which no AMHS football team had ever done before.
It wasn't quite "Remember the Titans", but it was an incredibly well played and exciting game. The Garrett Falcons scored with less than a minute left to play to take a 28-27 lead. After the ensuing kickoff, the Raptors managed one good play but were still on their own 40-yard line with time for only one more Hail Mary pass.
The Raptor quarterback was chased from the pocket to the left sideline then back to the right. His desperation pass found a Raptor receiver at about the Garratt 20-yard line. Heartbreakingly, the ball hit the receiver in the chest and bounced away as he was tackled. However, when you've been beaten 100 to nothing you do accumulate some karma that sooner or later has to come back around. The football bounced to Nate Schlosser who wove his way through the remaining Garrett Falcon tacklers for the final 20 yards and the game winning touchdown, the historic 8th win and a playoff berth.
Miraculous, but not unique at the Academic Magnet. Athletics at AMHS is something the eggheads take very seriously. Everyone knows that AMHS has been repetitively selected as one of the Top 10 public high schools in the country. What you probably don't know is that AMHS has the highest percentage of student body participation in sports and extracurricular activities than any other school in state. Most don't know that in the past few years AMHS has fielded state champions in men and women's soccer, cross country, swimming and golf. The women's basketball team has been in the play-offs 3 years in a row as was the football team this year.
Maybe you have a little chip on your shoulder from being told that you're too small, too short or have too little natural ability. Maybe you just want a chance to prove what you're made of. Maybe there is a competitive fire burning in you that just needs a chance. The Academic Magnet High School will challenge you intellectually and athletically. Overcoming those challenges, both in the classroom and on the playing fields, and competing at a high level academically and athletically, will best prepare you for the challenges to come in life.
Next year a new charter school is scheduled to open in Mt. Pleasant that is dedicated to athletic development. To me, that's sad because such a school already exists; plus so much more. There is no better high school experience in the Low Country than attending the Academic Magnet High School.