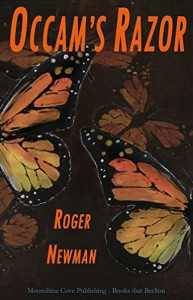 Sooner or later, everyone must confront the dilemma of doing what's right versus doing what's smart. Occam's Razor is set against the backdrop of the Operation Jackpot federal sting that targeted a billion dollars worth of marijuana coming ashore through the sieve of inlets and marshes along the South Carolina coast.
Declan Murphy, a popular Ob-Gyn physician at the Medical University of South Carolina, is called to the Emergency Department to see a young woman with a pelvic straddle injury. Helene Eastland is Declan's former high school girlfriend and daughter of the powerful and sexually abusive state governor. Helene has fallen in with the Jackpot smugglers and is now trapped between her father's plan to commit her to the State Mental Hospital and the Jackpot prosecutors who want her testimony against the smuggling kingpins.
Declan decides the only option is to help Helene flee her father's snare and the Jackpot subpoena. On the run, Declan and Helene develop an inappropriate doctor-patient intimacy, which puts both Helene and Declan in jeopardy. After a week in hiding, Helene disappears, leaving Declan to face the personal and professional consequences of his actions. Declan faces off against the Dean, the University President, and the Governor. The choice is clear. Fail Helene once again, or lose his medical license and career.
Book Discussion
Do you know of any other medical novels where an OB-GYN is the literary hero?
Is Declan Murphy MD part of a dying breed? Is there a future for the male OB-GYN?
How critical are you over Declan's behavior towards Helene when they were teenagers?
Initially, is Helene more of a manipulator than Declan realizes or is she truly attached to him? Did you anticipate Helene's desertion of Declan at Garden City?
Where does Declan and Helene's relationship go after the story ends?
If you had to run from the FBI or other pursuers, where would you go? Could you stay "off the grid"?
Do you consider Declan's romantic relationship with Helene to be a violation of his Hippocratic Oath and a career threatening offense?
If you were Helene, and considering her risks, would you have stayed with the drug smugglers in Costa Rica?
Given her childhood abuse, do you consider Helene dysfunctional, a survivor or a heroine?
Bruce Springsteen provides the soundtrack for Declan's life. Are there any other Springsteen songs that would have fit the story better? Who wrote the soundtrack for your life?
Did the resolution of Declan's problems in the President's Board Room come as a surprise? Did you anticipate the connection between Laurence Nodeen and the thwarted kidnapping at the beginning of the book?
Declan tends to be a bit ironic, or maybe just a smart-ass. Were any of his comments funny enough that you might use them again?
Declan is a first person story-teller of Occam's Razor. Does this approach help move the story along or does it hinder character and drama development? Does the first person narrative make any difference in your appreciation of the story?
Does the interaction between Declan, his chairman, the Dean, and the University President change any feelings  about the "business" of academic medicine? Are you surprised that OB-GYN is considered the red-headed step-child at the Medical University?
Is there a major theme to Occam's Razor? If so, what was it, and was the author successful in exploring this question?
Occam's Razor Book Reviews
Occam's Razor , the debut novel by Roger B. Newman, M.D.,  has been acclaimed as an engaging medical thriller based on real life events and has received 4.9 out of 5.0 stars on Amazon.