Thank you very much to Christine Maw for the invitation to speak at the monthly Readers and Writers event held in Columbia, S.C. on September 20th at Lizard's Thicket on Forest Drive. We discussed the background and my motivation for writing my new Civil War historical fiction novel "Will O' the Wisp: Madness, War, and Recompense". The two principal characters are Captain Jack Holmes of the blockade runner, Will O' the Wisp, and banker, financier, shipping magnate, and cotton cartel kingpin, George Alfred Trenholm. While the story is set in Charleston, I did grow up in Columbia living in Arcadia Lakes, one block off Trenholm Road! I never asked and never knew until I started working on this book. What a treat to be back in my hometown! So changed, but still so many memories and so much the same.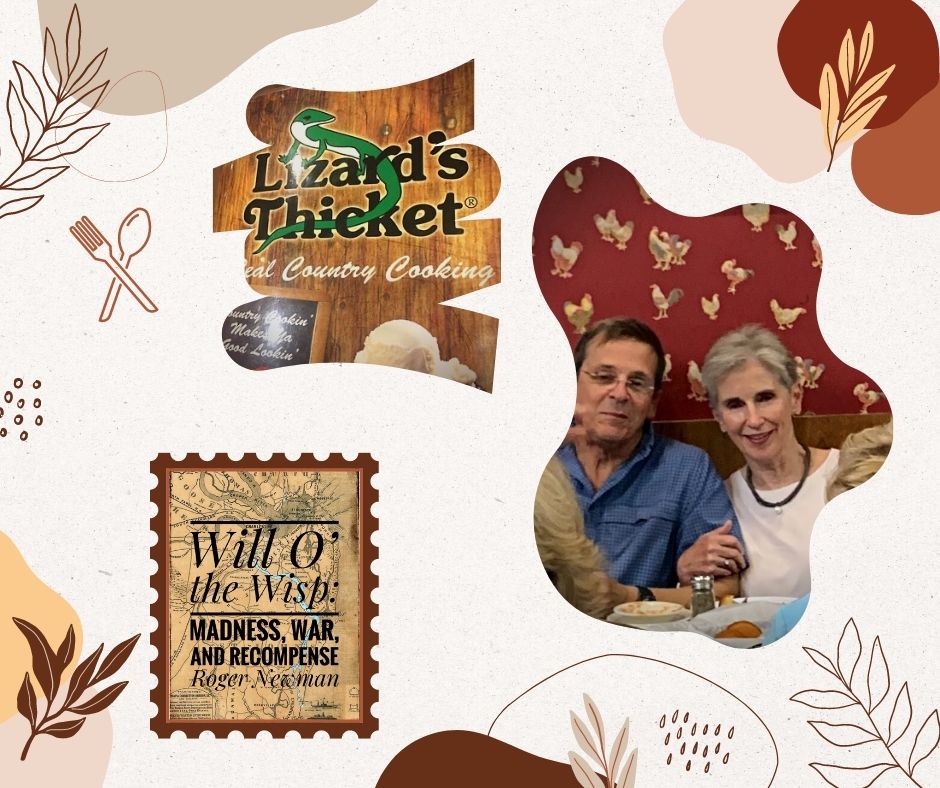 We enjoyed our visit to Columbia and even had time to hit LaBrasca's Pizza for a slice before getting back on I-26 to Charleston. It was the best pizza slice I've had in 50 years. I know that because the slice I had 50 years ago was also at LaBrasca's during my senior year at Spring Valley High School. Looking forward to any opportunities to return to Columbia to talk about this book or any of my others.
---
If you happen to be in Columbia or nearby, let me give a shout-out to the next Readers and Writers event which will be on October 18th, 2022 between 11:30 am and 1:30 pm also at Lizard's Thicket at 3147 Forest Dr. in Columbia. The featured author will be Halina Schafer who has written several excellent children's books. If you go, I would recommend the chicken and rice soup and a hot buttered biscuit with tomato slices.