Memorial Day weekend is the traditional start of the summer season! My plans included joining old friends and colleagues at Kiawah Island and pretending we were younger than we are. Whatever your summer plans, I hope they include some time at the beach or the pool with a cold one and something good to read!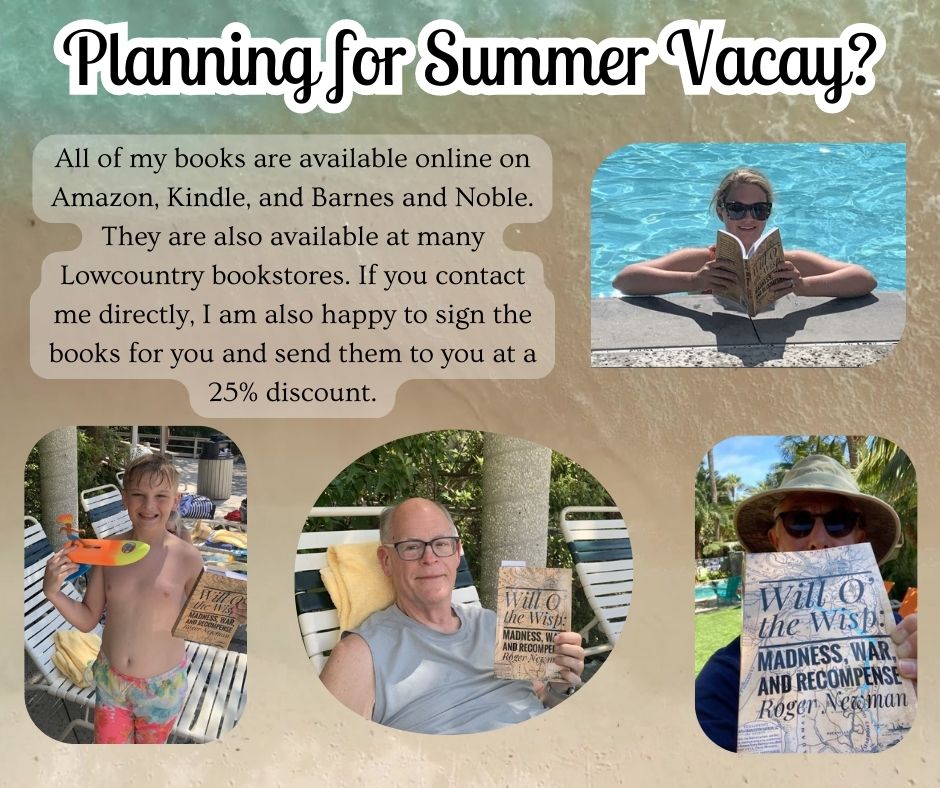 If you have just experienced a brief panic because you don't have a summer read in hand, let me make a few suggestions. I can vouch for the author. "Occam's Razor" is a medical thriller featuring Dr. Declan Murphy and is set on the beach at Garden City with visits to Sam's Corner and Brookgreen Gardens. Declan and Helene are hiding out from the Lowcountry Gentlemen Drug Smugglers, the FBI, South Carolina SLED, and Helene's father who happens to be the morally bankrupt South Carolina Governor.
"Two Drifters" is a page-turning medico-legal drama and is the continuing misadventures of Dr. Declan Murphy, literature's only OB-GYN action hero. "Two Drifters" introduces the dangerous and cunning Voodoo Queen, Paris Laveau, and her enabler brother, Hector. The last in the Declan Murphy trilogy is "What Becomes", a story of industrial pollution and environmental contamination set in Georgetown. S.C. Declan Murphy is determined to expose the reproductive impact of the environmental contamination and catch those responsible for a murder in the marsh.
If those three books can't cover your entire vacation (God bless you). then you should also consider my most recent book titled, "Will O' the Wisp: Madness, War, and Recompense". It is a Civil War historical fiction about Captain Jack Holmes, a blockade runner out of Charleston, S.C. He uses his smarts, skills, and knowledge of all the inlets, coves, rivers, and swamps along the South Carolina coast to elude the Yankee blockade.
All of my books are available online on Amazon, Kindle, and Barnes and Noble. They are also available at many Lowcountry bookstores. If you contact me directly, I am also happy to sign the books for you and send them to you at a 25% discount.
Just want to make sure that everyone is ready for summer with some good, exciting fiction. If you already have some other books picked out, then that is great. I hope they are excellent. I know that mine are. Happy summer, and don't forget your sunscreen!